Baahubali Marketing Strategy for Colleges and Corporate
When leading British daily, The Guardian gives an Indian film, that to originally made in regional languages a thumbs up, there has to be something breath-taking about it. We're talking about SS Rajmouli's magnum opus, Baahubali. It is endorsed as one of the most expensive films that the country has ever produced. Baahubali: The Beginning clocked 300 crores ($48 million) worldwide in barely nine days at the box office.
With the second instalment, Baahubali 2: The Conclusion, round the corner, it is expected to cross more than 500 crores through commercial tie-ups alone. The film that cost Rs. 250 crores to make is set to be released across a record of 6,500 screens country-wide in Hindi, Tamil, Telugu and Malayalam versions.
What's more interesting, apart from the film itself is the creative marketing strategy.
The makers and cast of the film have not gone overboard with aggressive marketing campaigns. They are definitely not engaging in shoving down of paid-and-planted news down the throats of the audience. No promotional tours by the cast on every other channel or any other high-fly marketing.
What the makers are leveraging on is the power of new media, paper cup marketing and offline media.
The second part of the Baahubali franchisee is creating organic hype, riding on its own shoulders.
It has chosen new, innovative ways to tease audiences with content and set the box office on fire with its movie promotion.
Marketing Strategy for Movie Promotions
Merchandise
Baahubali is all set to break Indian film industry's merchandise jinx.
Very soon, the figurines of Baahubali and Bhallaladeva, the two key characters from the epic Telugu film franchise will be seen on store shelves.
They plan to flood the market like never before with Baahubali-inspired apparels, figurines, personalised debit cards, paper cups, mugs, badges, coasters, laptop skins, canvas prints, posters, magnets, accessories, phone covers, VR glasses and more.
The makers of Baahubali want to rewrite the rules of India's film merchandise business. They are taking inspiration from Hollywood, where merchandise sells like hot cakes and is a big business around the globe. If Indian film franchisees are looking for brand longevity, they must engage themselves in marketing mediums like these.
In Hollywood, merchandising is quite a common phenomenon. From Star Wars to Harry Potter and Disney, all have used this medium before the release and when the film went on floor. In Bollywood however, only few Hindi films such as Krissh, Dhoom and Ra. One – have used merchandising.
What may work for Baahubali is that it is the first Indian brand to transcend to new or different media. In the past, hardly any Bollywood movie has looked at merchandising seriously. This is the first time it will be taken to a scale of a different level. The Baahubali makers are looking to sell merchandise valued at Rs. 25 crore. The products will be available in more than 1,000 outlets across the country.
Not just merchandise, the producers are also trying to earn revenue through Baahubali-inspired books, novels, comics, animation and video games.
New media
There is no doubt that digital marketing has taken centre-stage in film marketing, however, one should not forego the importance of traditional media. Cross-platform engagement is critical to the success of a film. This is why films are now choosing to tease audiences with content using new mediums such as paper cup marketing. Not just films, even brands associated with films and sponsors such as BookMyShow and Hotstar are using paper cup advertising and other offline mediums to promote their association with big-budget films.
Source: GingerCup
Sony and Star have been given a portion of the digital rights and will screen the film on their online video streaming platforms Sony Liv and Hotstar respectively.
Image above: Soup served in a Baahubali paper cup in the Indian Railways.
Cup Branding Marketing Strategy for Baahubali
Seven days from the release of the film, Baahubali 2 branded paper cups were distributed by GingerCup in full swing in corporate parks, offices, colleges, shopping malls and tea stalls. The campaign was launched Pan India, and the pre-bookings recorded were pulse-raising. Nearly 1 million tickets were sold online within 24 hours of opening of advance booking. More about the Baahubali 2 marketing case study can be followed here.
Consumer segment
Baahubali makers are leaving no stone unturned in promoting the second film of their franchisee. The team has partnered with brands such as Munch (chocolate from Nestlé India), biscuit maker Britannia Industries, Chinese handset maker Oppo mobiles and jewellery house, Amrapali.
Nestlé Munch has partnered with Baahubali to launch five new limited edition packs. The chocolates and confectionery brand are looking to engage with consumers in a more exciting way with this association.
As far as Britannia is concerned, they too are investing in on-pack promotion. As part of the deal, they will advertise on Tiger and Milk Bikis packs.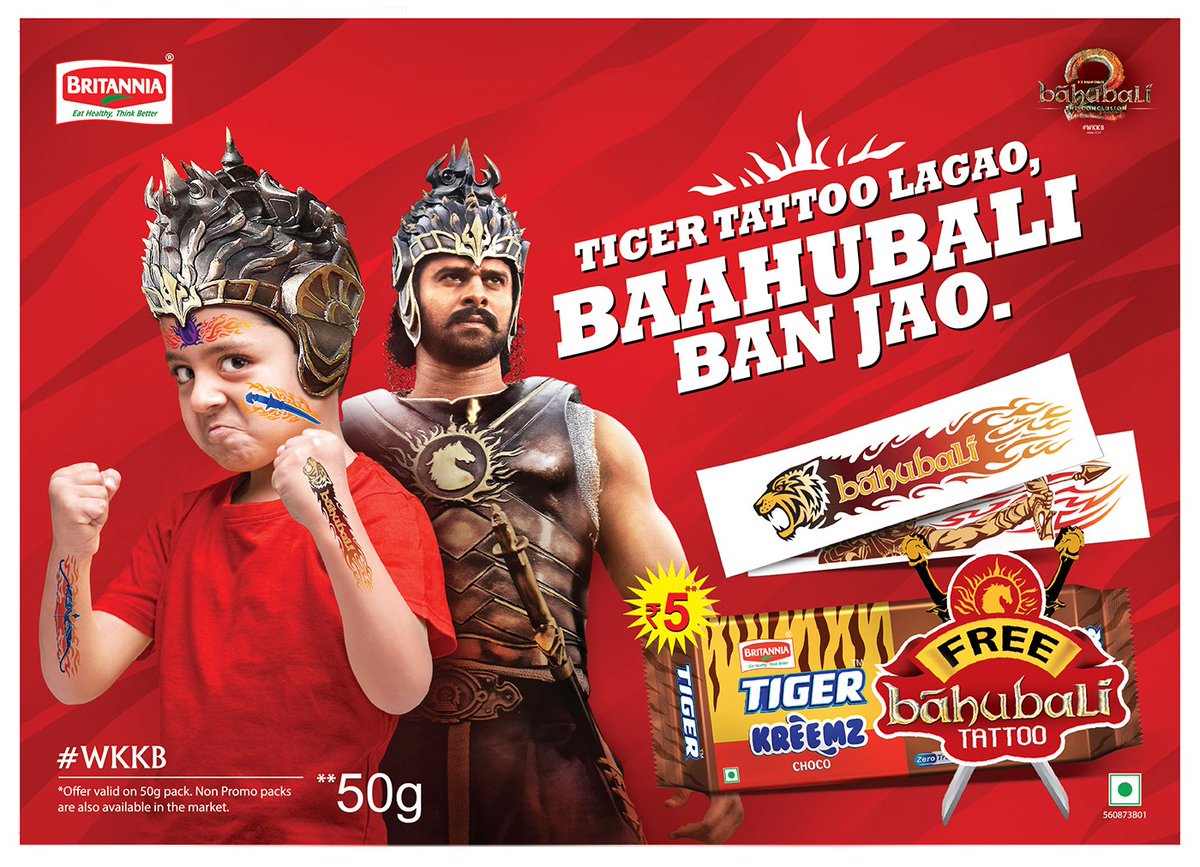 The jewellery partner, Amrapali too is advertising its association with Baahubali in full swing.
Today, as opposed to conventional print advertisements and posters, mainstream filmmakers are looking for anticipation marketing, referring to the creation of curiosity and hype in a way that people are willing to spend on a movie even before its release. To create buzz about a film, the trailer is the key milestone. To become a part of the customer journey and getting people to see it, can be done through either social media or offline mediums such as paper cup advertising where the reach is targeted, ascertained and assured to every individual.